Courses for Groups Level C1
Bespoke tailored group courses available at anytime of year. Teachers are very welcome to join their students as group leaders on the trip.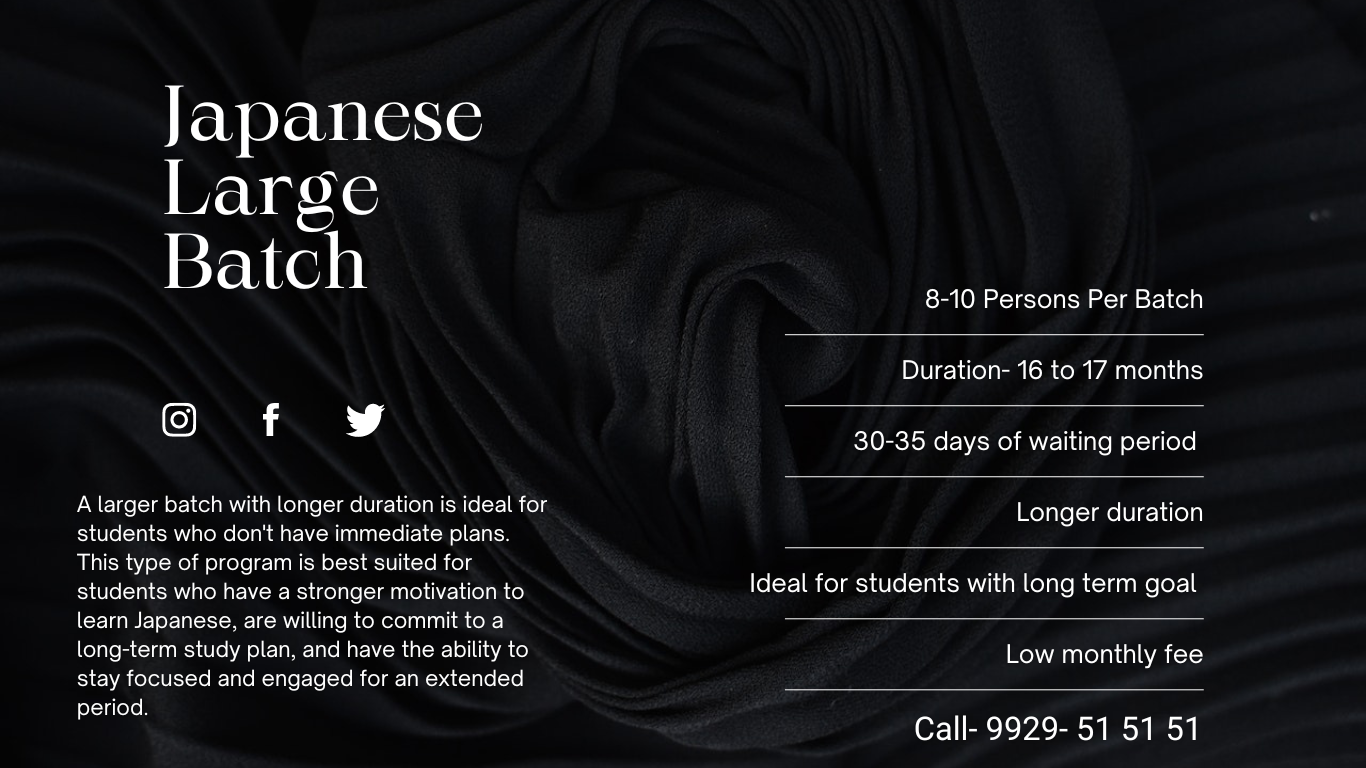 Our larger batches for Japanese language classes are designed to accommodate a maximum of 8 to 10 students per batch.
There is a waiting period of around 30-35 days after registration as usually at least 2-3 batches have advanced registration.
These classes offer lower monthly fees but a longer duration of learning which extends from 16-17 months.
This structure is perfect for students who do not have immediate goals for using the language but are looking for long-term learning opportunities and have restrained monthly budget.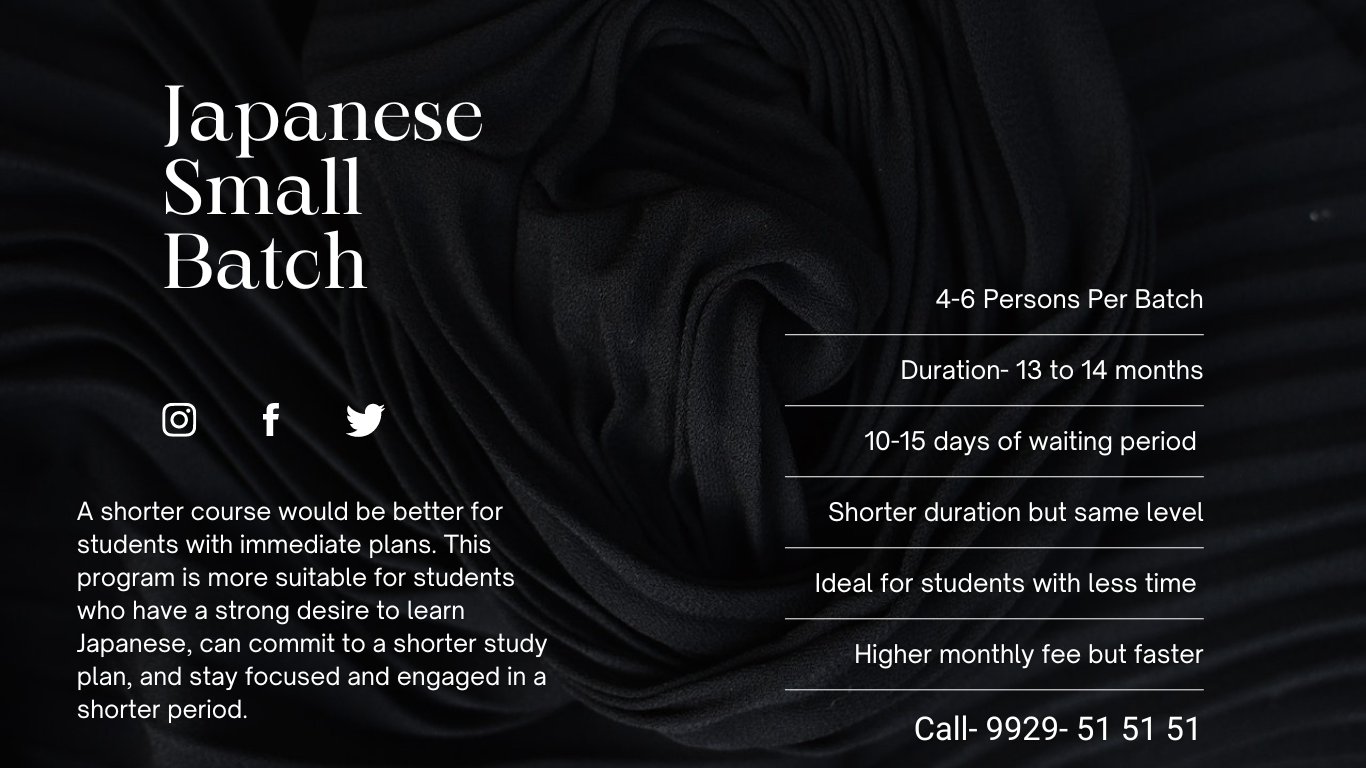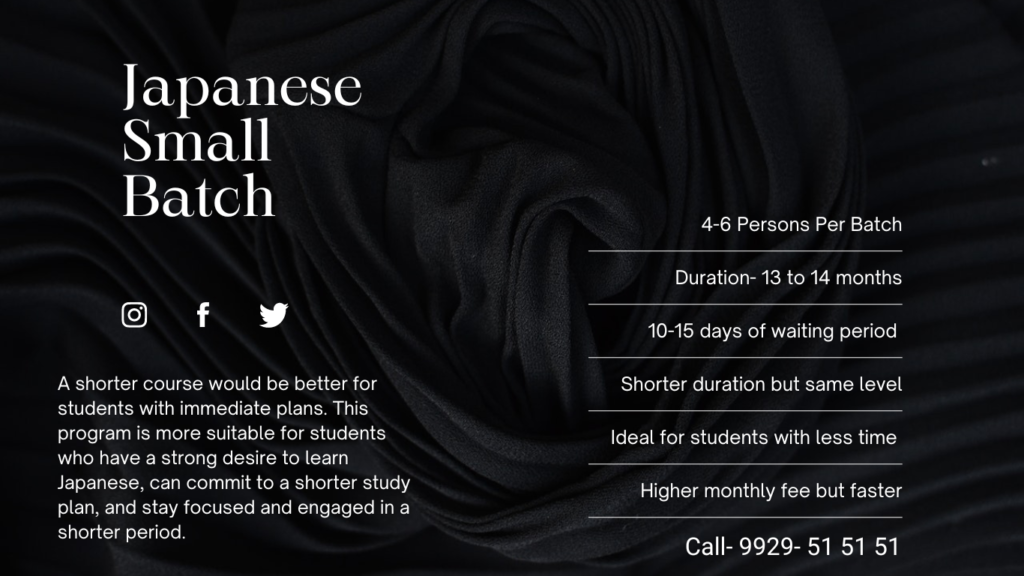 Our smaller batches for Japanese language classes are designed to accommodate 4-6 students per batch, with a shorter waiting period of usually 15-20 days and duration of around 13-14 months.
This structure is perfect for students who want to achieve their language goals faster but are comfortable with slightly higher monthly fees, though the total fee is almost the same as the large batch due to the shorter duration.
The smaller batch size ensures that each student receives individual attention and personalized guidance from our experienced and certified instructors.
Our certified instructors offer more interaction and direct guidance with the expert faculty. This will give you the exact native-level conversational experience which other students themselves cannot give.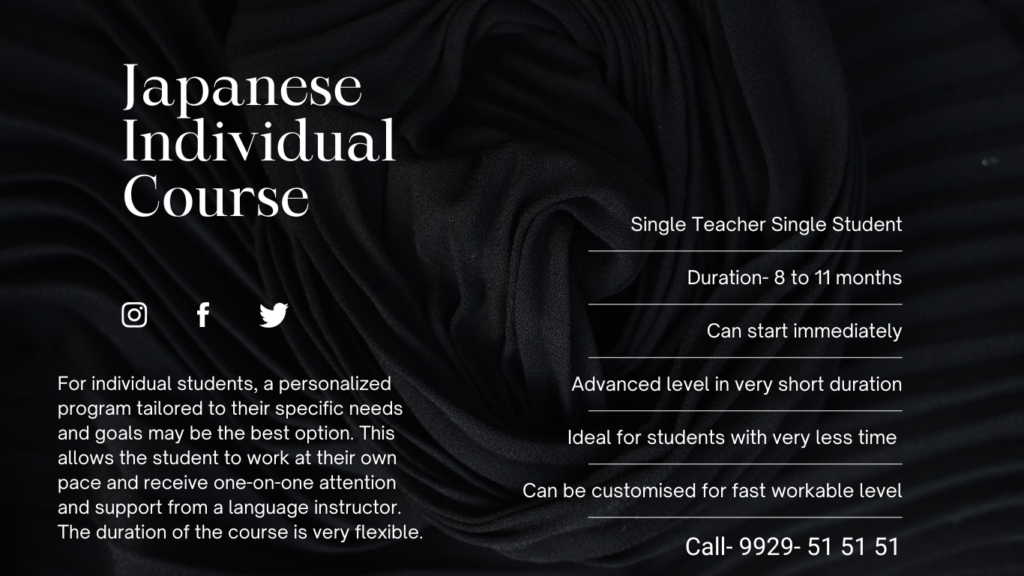 Japanese Individual Course
For individuals who prefer a more personalized approach to learning Japanese, one-on-one tutoring or private lessons may be a better option.
One-on-one tutoring or private lessons allow for a customized curriculum tailored to the individual's needs, learning style, and schedule.
Individual lessons also provide more flexibility in terms of course duration, allowing the individual to choose a shorter study plan based on their goals and availability.
The individual course can be started immediately without any wait time.
Though the monthly fee may be higher in an individual course, the total cost is not much different as the duration is almost half that of large batches.
The Activities Coordinator is ready to provide tips for students who are interested in making the most of their Ecole San Diego experience. Students looking for an English school in San Diego with an exciting mix of activities will enjoy Ecole !
John Doe
School Director
Ecole is dedicated to maintaining an impressive diversity in the classroom. Ecole's Nationality Mix reflects this: no group of students is represented by more than 1/5 of the student population.
Maria Ralee
Academic Manager
The Ecole classroom is a place to connect with people from around the world, which makes the Ecole experience more than just an experience studying in the U.S.: it's a chance to connect globally!
Michael Rafael
Junior Program
Start dates

1 June | 6 July

Course length

4 weeks

Lesson times

09:00-12:00

Language level

Advanced

Maximum class size

13 (max 15)

Lesson days

Monday-Friday